Ganache di cioccolato bianco – White chocolate ganache
Ganache di cioccolato bianco – White chocolate ganache
La ganache è una crema ampiamente utilizzata nel campo della pasticceria per decorare tanti  tipi di dolci, dalle torte ai biscotti ai cupcakes.
Non perderti questa ricetta e scoprirai come fare una fantastica ganache al cioccolato bianco.
The ganache is a cream used extensively in the field of pastry to decorate many kinds of desserts, from cakes to cookies to cupcakes.
Do not miss this recipe and see how to make a fantastic white chocolate ganache.
INGREDIENTI:
INGREDIENTS: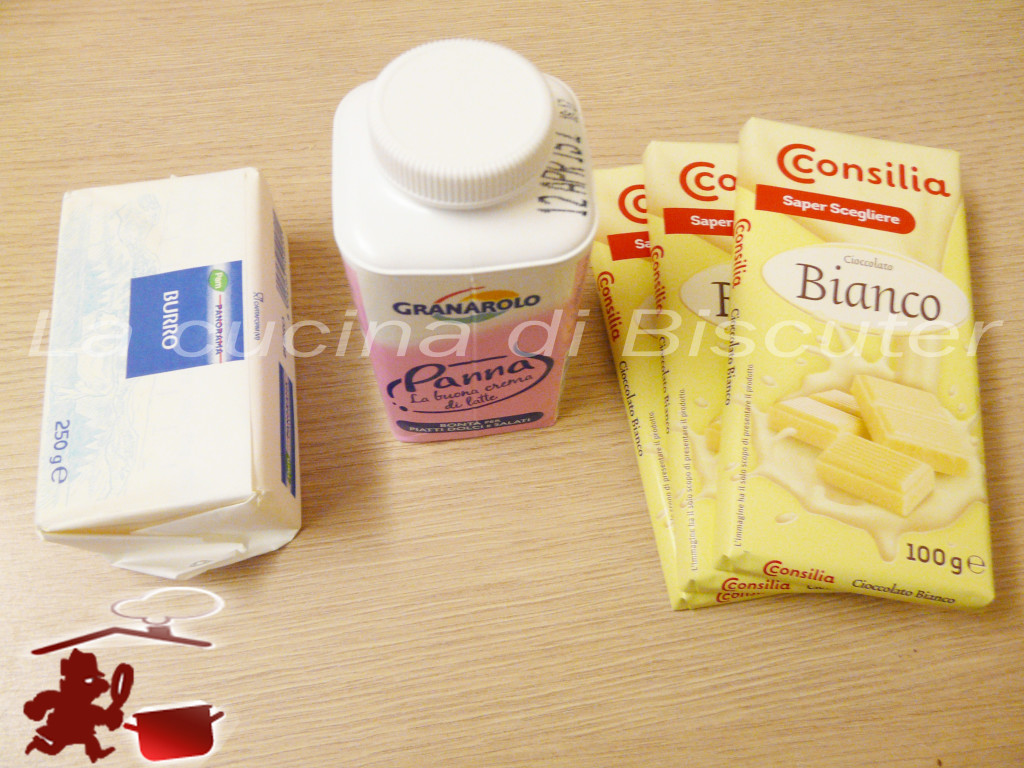 250 gr di cioccolato bianco
250gr di panna fresca
25 gr di burro
250 grams of white chocolate
250 g of fresh cream
25 g butter
PREPARAZIONE:
PREPARATION:
Prima di iniziare a preparare la ganache di cioccolato bianco è necessario tritare il cioccolato. Il consiglio è quello di spezzare i rettangoli di cioccolato tagliando con un coltello ben affilato lungo i bordi degli stessi, ed i rettangoli così ottenuti li tagliamo a metà.
Before begin to prepare the white chocolate ganache is necessary chop the chocolate. The advice is to break the chocolate rectangles cutting with a sharp knife along the edges, and the rectangles obtained cut in half.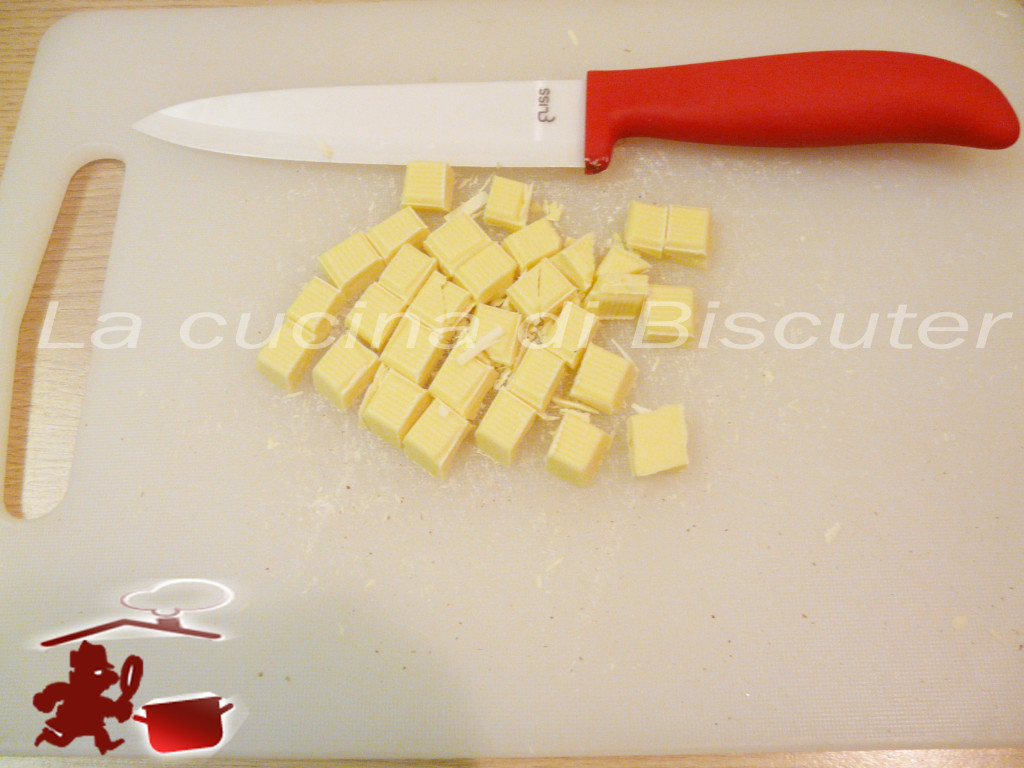 Poniamo un paio di bottiglie di acqua nel Freezer.
Put a couple of bottles of water in the freezer.
Adesso mettiamo la panna in una casseruola piccola e iniziamo a riscaldare il contenuto a bagnomaria. È molto importante non lasciare bollire la panna. Quando questa è quasi bollente spegniamo il fuoco e togliamo la pentola dalla cottura a bagnomaria adesso aggiungiamo il burro e quando questo è squagliato
Now put the cream in a small saucepan and begin to heat the contents in a double boiler. It is very important not to let the cream boil. When it is almost boiling turn off the heat and remove the pan from the double boiler now add the butter and when it is melted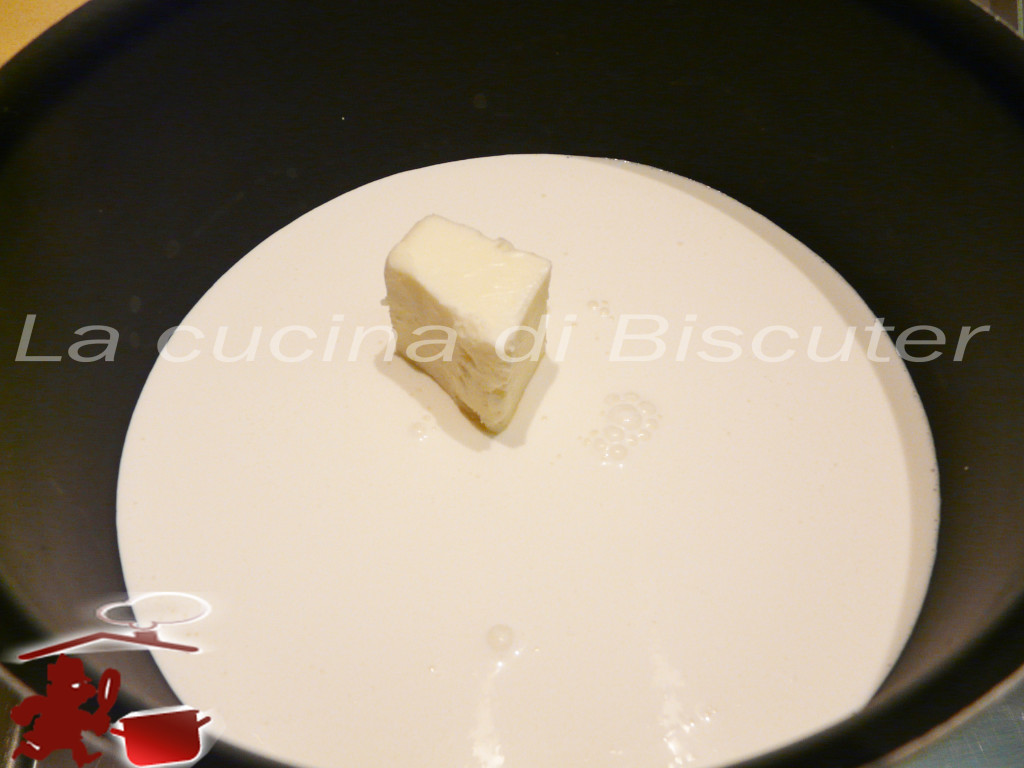 aggiungiamo poco alla volta anche i pezzetti di cioccolato bianco mescoliamo bene con un cucchiaio possibilmente di legno, mescoliamo sino a quando il composto non risulti tiepidissimo.
add bit by bit even white chocolate pieces, mix well with a wooden spoon if possible, stir until the mixture not showing tepid.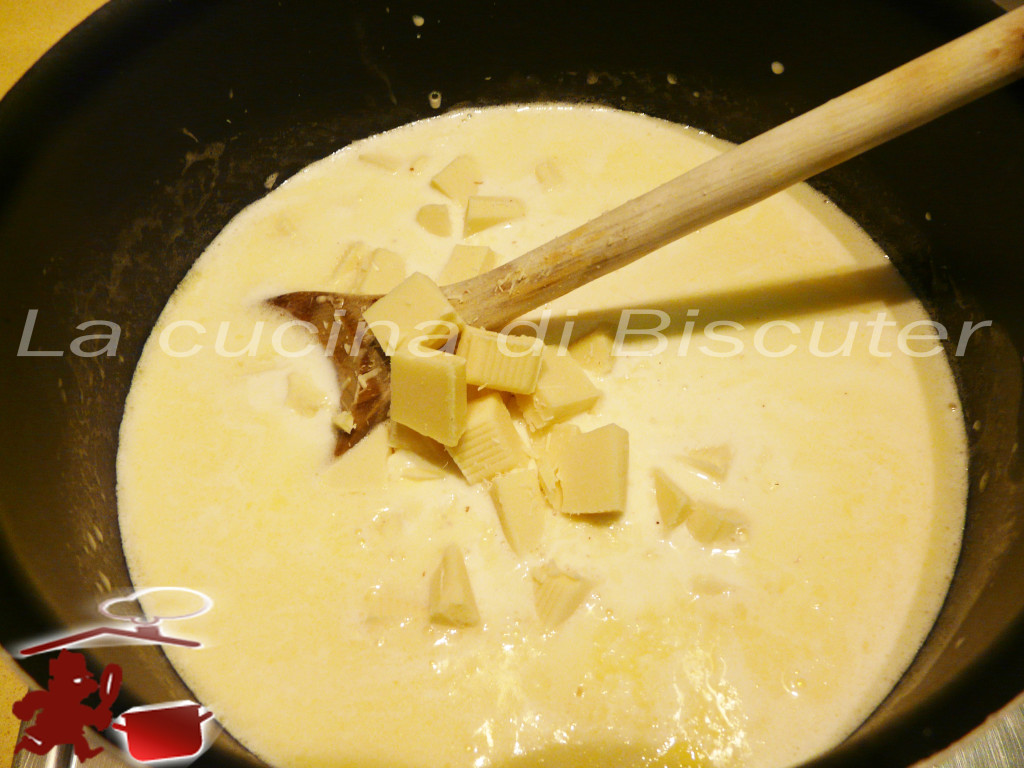 Adesso trasferiamo il composto in una ciotola e
Now transfer the mixture into a bowl and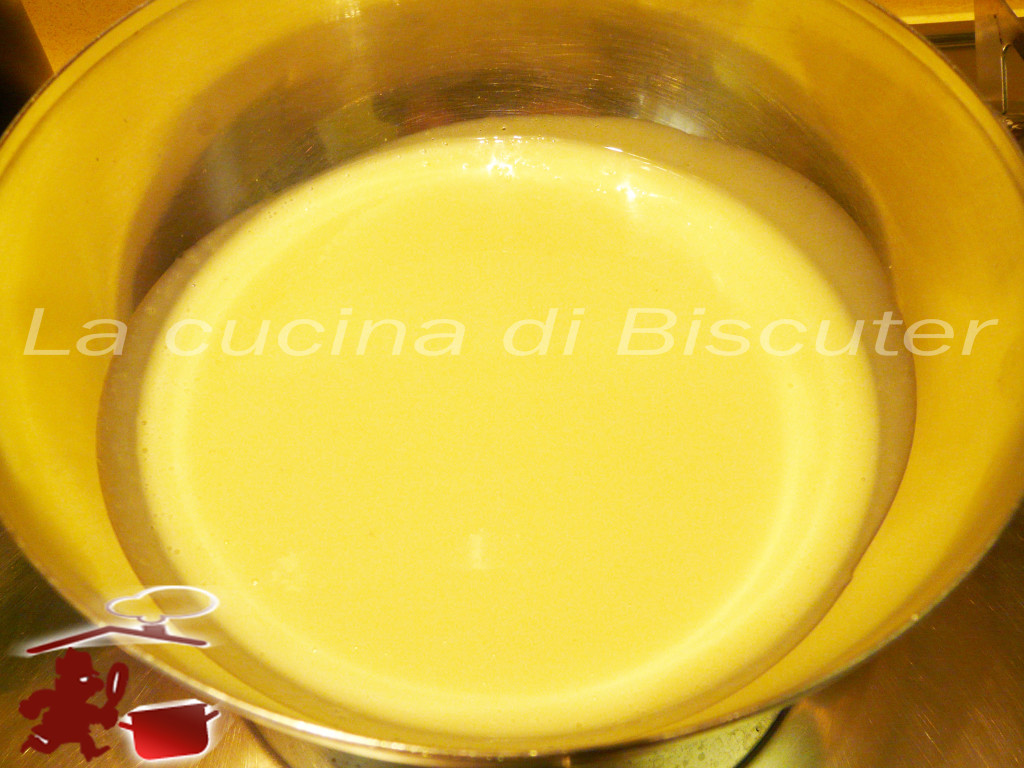 questa la poniamo a bagnomaria nell'acqua fredda, che avevamo precedentemente preparato,
put this in the double boiler in the cold water, which we had previously prepared,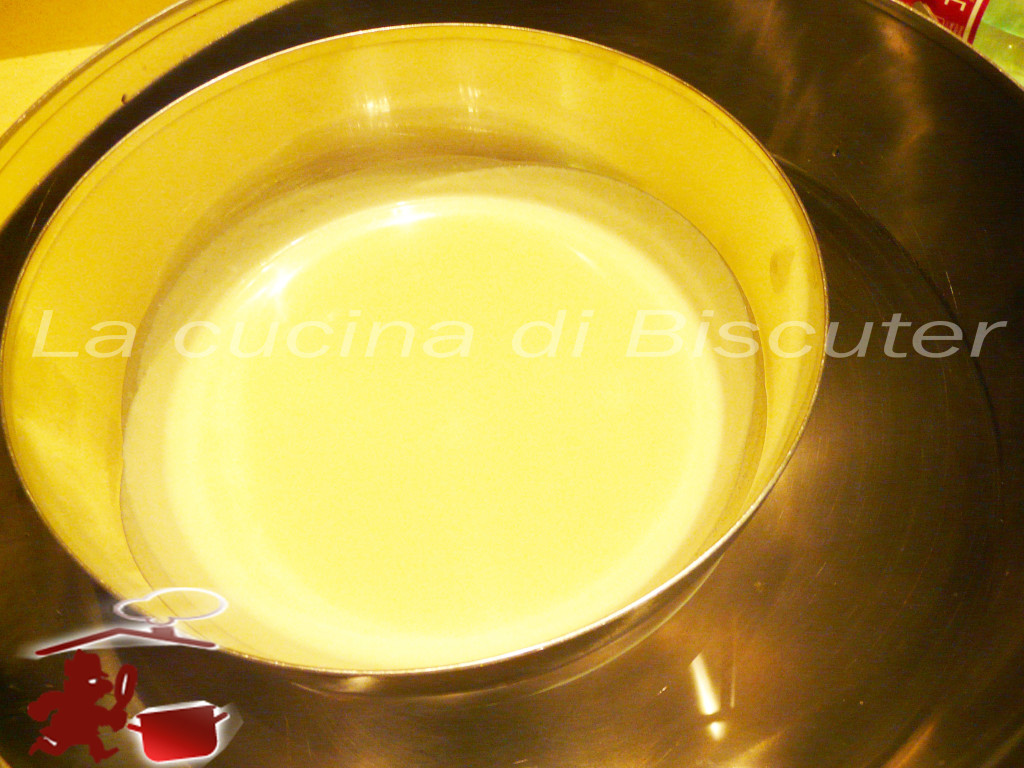 ed iniziamo a montare il composto utilizzando uno sbattitore elettrico a velocità medio-alta finchè il medesimo composto non diventi cremoso e allo stesso tempo abbastanza solido, le fruste devono lasciare i segni del loro passaggio.
and begin to whisk the mixture using a medium-high speed the electric mixer until the mixture becomes creamy and at the same time enough solid, the whips have to leave signs of their passage.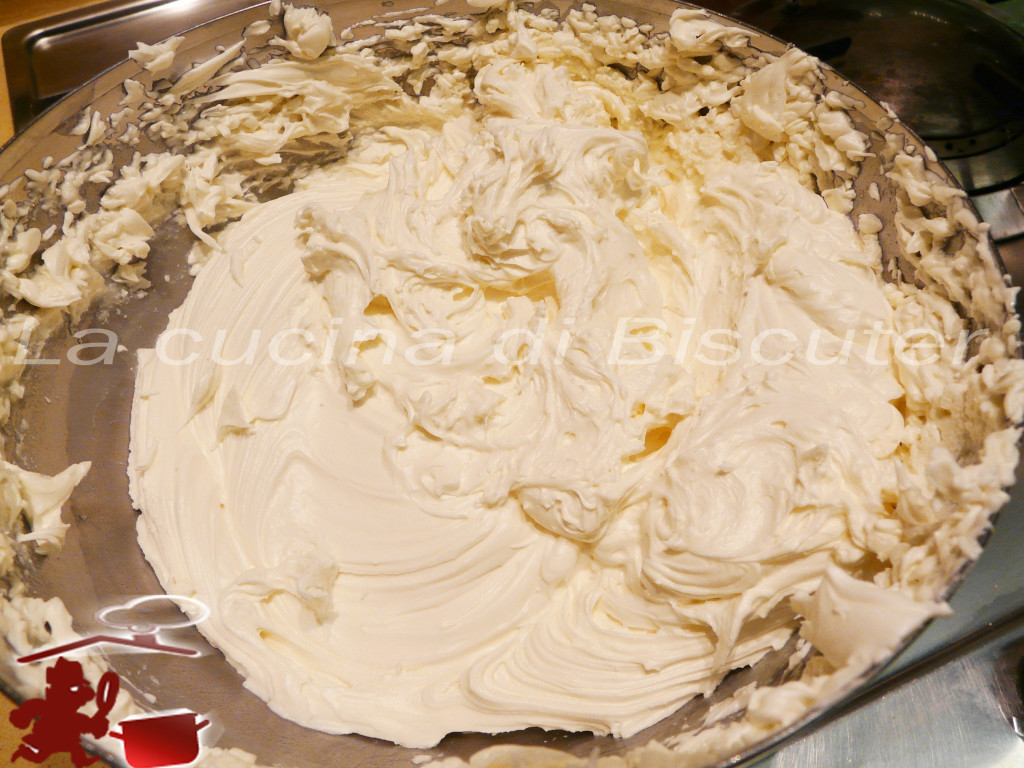 Se la ganache non si presenta solida, poniamo la ciotola nel freezer per qualche minuto, poi continuiamo a montarla  utilizzando lo sbattitore per qualche minuto.
If the ganache does not show solid, place the bowl in the freezer for a few minutes, then continue to whisk the mixture using the mixer for a few minutes.