Filetto di ricciola al profumo di menta in crosta di pistacchio – Pistachio crusted amberjack fillet with scents of mint
Filetto di ricciola al profumo di menta in crosta di pistacchio – Pistachio crusted amberjack fillet with scents of mint
Il filetto di ricciola al profumo di menta in crosta di pistacchio è un ricetta sana e leggera inoltre si può preparare in meno di 45 min. Il sapore della ricciola viene esaltato dalla marinata di menta e la copertura croccante di pangrattato e pistacchi tritati la rendono ancora più appetitosa. Con pochi ingredienti e così facile da fare, questo piatto può diventare la vostra nuova ricetta preferita.
Pistachio crusted amberjack fillet with scents of mint is a light and healthy meal you can have on the table in under 45 min. Rich tasting amberjack with a mint marinated  and finished off with a crunchy topping of bread crumbs and chopped pistachios. With a few ingredients and so easy to make, this just may become your new favorite amberjack recipe.
INGREDIENTI (per tre persone)
INGREDIENTS (for three people)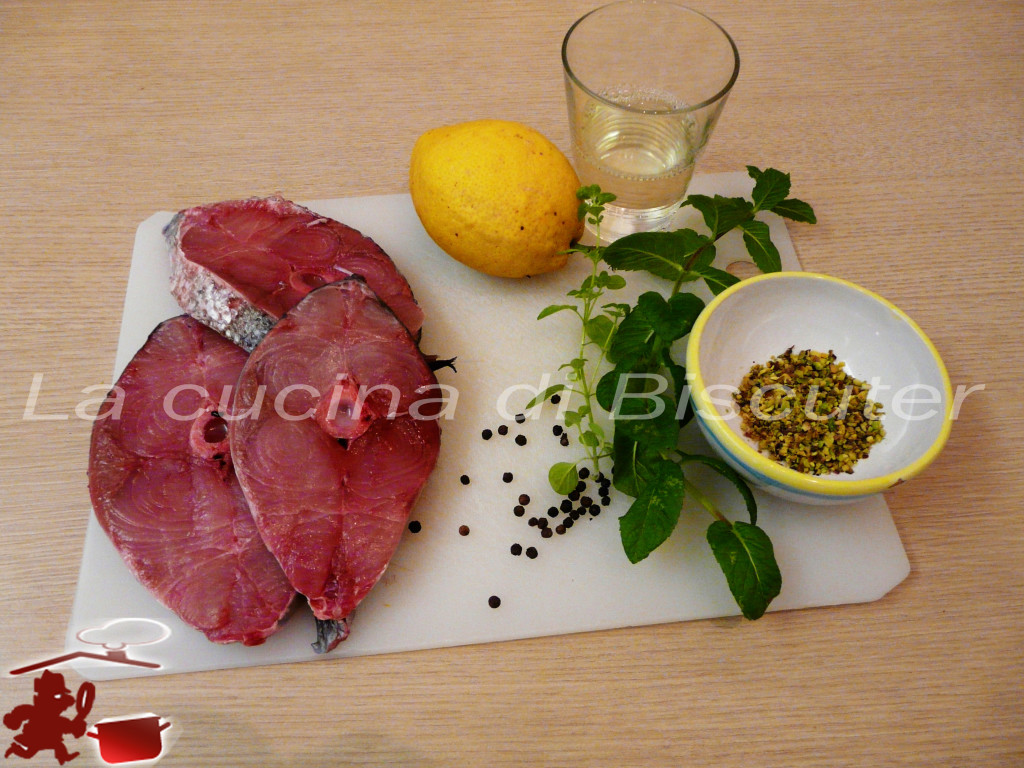 3 filetti di ricciola
un gambo di menta
un gambo di origano fresco
1/2 limone succo
1/2 bicchiere di vino bianco
4 cucchiai di granella di pistacchi
6 cucchiai di pan grattato (questo può essere sostituito con farina di mais)
3 cucchiaini di pepe in grani
2 cucchiai di olio d'oliva extra vergine
Sale
3 fillets of amberjack
a stalk of mint
a stalk of fresh oregano
1/2 lemon juice
1/2 glass of white wine
4 tablespoons chopped pistachios
6 tablespoons breadcrumbs (this can be replaced with corn flour)
3 tsp peppercorns
2 tablespoons extra virgin olive oil
salt
PREPARAZIONE:
PREPARATION:
Preriscaldare il forno a 180 °C. Laviamo sia la menta che l'origano, asciuga bene e trita entrambe le erbe.
Preheat oven to 375 F (180°C). We wash the mint and oregano, dries well and chop both herbs.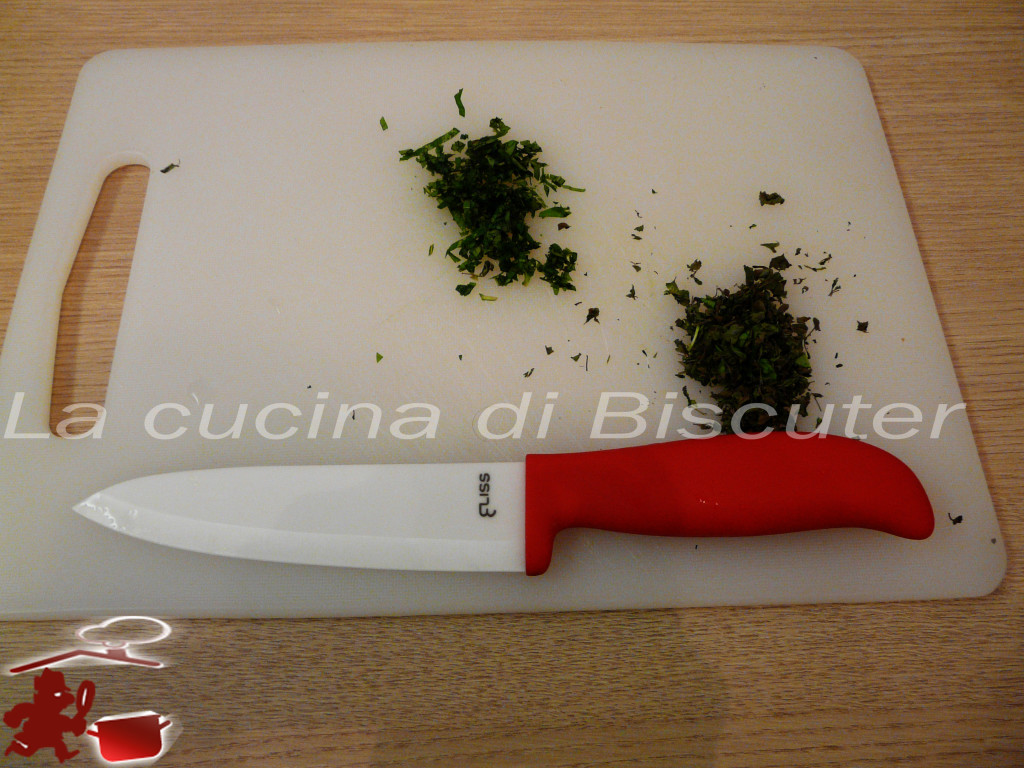 Prepariamo la vinaigrette ponendo in una ciotola  il succo di mezzo limone e il sale che facciamo sciogliere con una frusta da cucina , aggiungiamo le erbe aromatiche tritate , il pepe in grani e l'olio a filo, sbattiamo gli ingredienti con  la frusta o una forchetta fino a che tutti gli elementi non siano ben emulsionati.
Prepare the vinaigrette by placing in a bowl the lemon juice and the salt that we dissolve with a kitchen whisk, add the chopped herbs, peppercorns and olive oil gradually, slam the ingredients with a kitchen whisk,  or a fork, until all the elements are not well emulsified.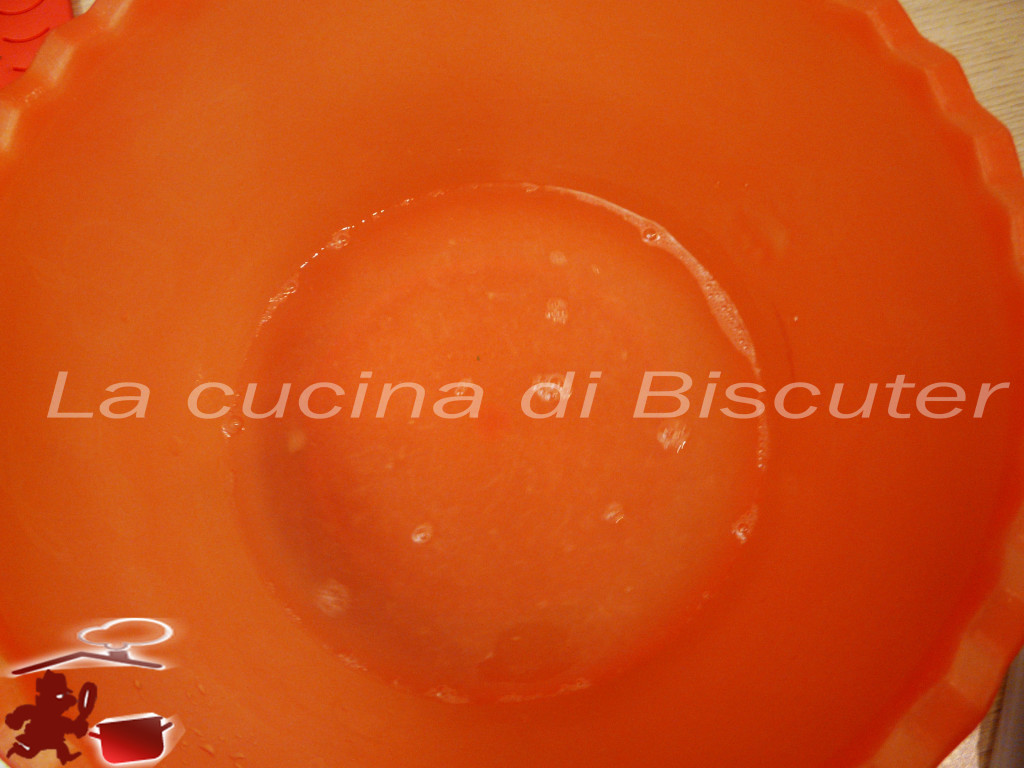 Tagliare la ricciola a fettine, oppure compratela già tagliata in pescheria, e immergerle nella vinaigrette. Lasceremo marinare i filetti per 20 minuti in frigorifero, avendo cura di girarle ogni 5 minuti in modo da insaporire il tutto.
Cut the amberjack in sliced, or buy it already cut, and dip them in the vinaigrette. Marinate fillets for 20 minutes in the refrigerator, taking care to turn them every 5 minutes in order to flavor whole.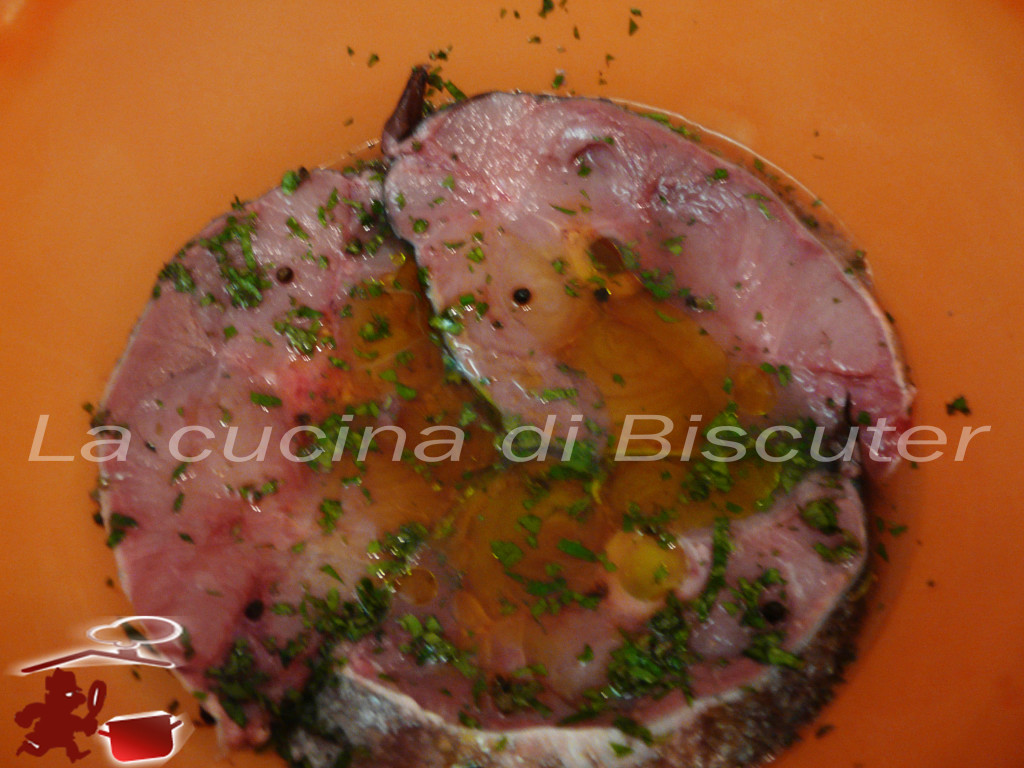 Mescoliamo il pan grattato con la granella di pistacchi,
Mix the breadcrumbs with the chopped pistachios,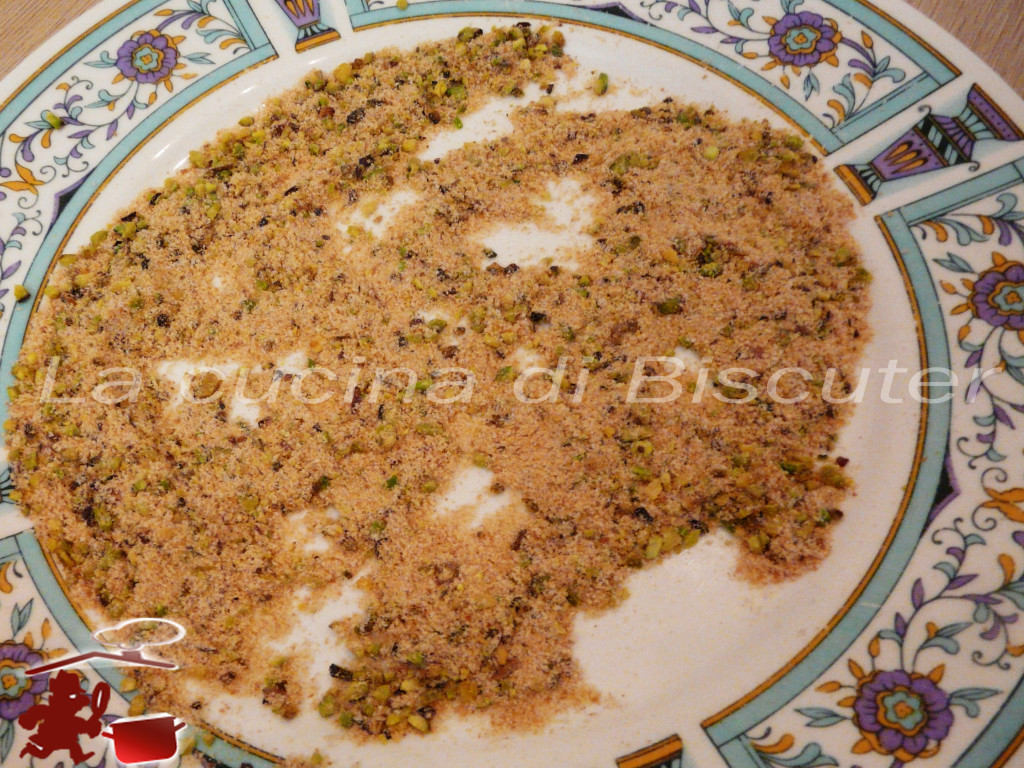 togliamo dalla marinata i filetti e li impaniamo solo da un lato,
remove from the marinade the fillets and breaded them only on one side,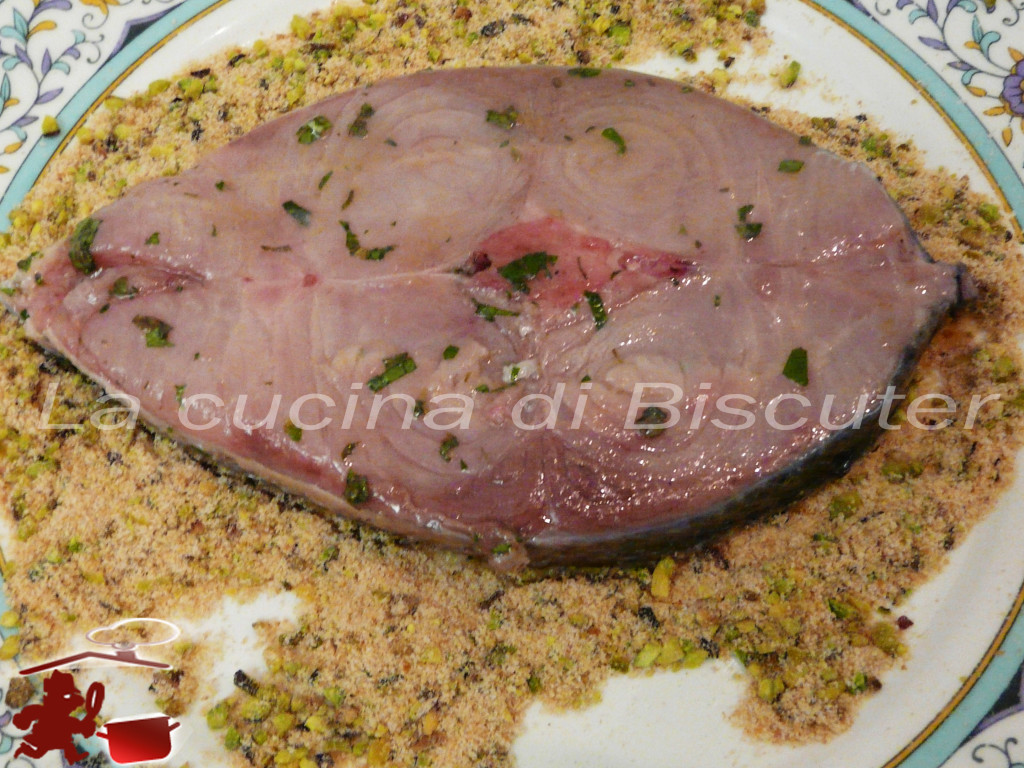 li disponiamo su una teglia da forno rivestita con carta forno e versiamo sopra i filetti qualche cucchiaiata della marinata.
put the slice on a baking sheet lined with parchment paper and pour over the fillets a few tablespoons of the marinade.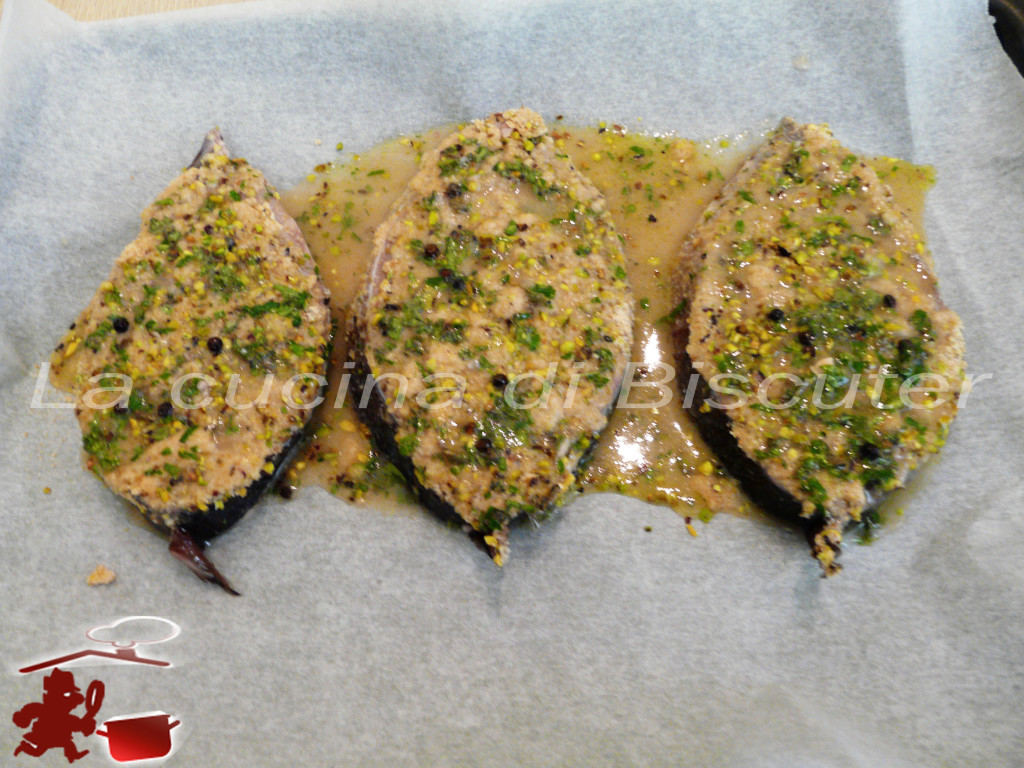 Poniamo la teglia in forno a 180 °C per circa 20 minuti a metà cottura bagniamo con il vino.
Put the baking sheet in the oven at 375 ° F for about 20 minutes to half cooked pour the wine.